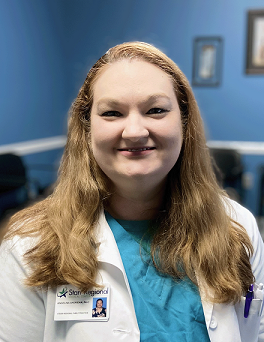 Starr Regional Medical Group today announced that Angelina Sheridan, PA-C, has joined its staff and will offer family medicine services to patients in Etowah and the surrounding communities. Sheridan is a board-certified physician assistant.
"Angelina has experience and training in treating patients ranging from pediatrics to geriatrics for acute and chronic conditions. She is an excellent addition to our team of family medicine providers," said John McLain, chief executive officer of Starr Regional Medical Center. "Her expertise is important as Starr Regional Medical Center strives to meet our area's growing need for family medicine services and make our community healthier."
Sheridan graduated from Lincoln Memorial University's DeBusk College of Osteopathic Medicine in 2014. Following graduation, she served patients at two family practice locations in Dayton, Tenn. She is board-certified by the National Commission on Certification of Physician Assistants and a fellow of the American Academy of Physician Assistants. Sheridan is a native of Lakeland, Fla., and enjoys singing, crafting and spending time with her family and pets.
Sheridan sees patients at Starr Regional Family Practice located at 305 Grady Road, Suite B, Etowah, Tenn. To schedule an appointment, call (423) 263-0722.
Read All Posts